Small Business Support Program
Traditionally, post-disaster recovery models have a stronger focus on infrastructure, restoration and other elements of household recovery than on economic resilience, including business continuity. That is why we created after Hurricane Maria the Small Business Support Program: to support existing business owners remain open, retain employees and optimize their business through immediate financial relief and technical assistance. 
In early 2020, we reactivated the program to support the small businesses affected by the series of earthquakes that struck Puerto Rico in January, including a 6.4 magnitude event that wreaked havoc and devastation across the southern coast of the island.
$504K
disbursed in cash grants
+200 small businesses
supported across 11 municipalities
+800 hours
of mentorship and technical assistance
89% open rate
Most of FPR's assisted businesses remained open pre-pandemic. That's compared to FEMA's benchmarks that show 40% – 60% of SMBs close a year after a natural disaster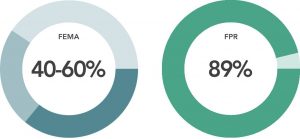 $80K
disbursed in cash grants just 2 months after the earthquakes
22 small businesses
supported in Guánica and Ponce
+120 hours
of mentorship and technical assistance
our approach
No open solicitations.
Instead of opening the program to all businesses in Puerto Rico through an open solicitation process, FPR pre-selected the geographic areas of impact. The decision was made for two reasons. 
First, by choosing the areas beforehand, FPR could better control program costs and logistics. This allowed FPR to implement the program quickly and put cash in businesses' hands within weeks of the hurricane, and three years later, within weeks of the earthquakes. 
Second, by aggregating funds within a dense geographic area, FPR increased the spill-over effects of individual grants. In other words, the impact of one single grant was not going to be nearly as much as 14 simultaneous grants in a region with large commercial activity.
Partner collaboration, leaning into their strengths.
In order to implement and strengthen this initiative, we joined forces with experts from Centro para Emprendedores and the Puerto Rico TechnoEconomic Corridor (PRTECH) to support and provide different types of support during these interventions. These organizations had the infrastructure in place to perform the business census, conduct needs assessment, and provide technical support. If FPR had attempted to build capacity to operate all components of the program, grants would have not been distributed so quickly after the storm and earthquakes, respectively. 
Cash assistance supplementation with technical support.
The merger of cash and coaching was crucial in the program design. To provide the second installment of the cash assistance, the business owner had to receive technical support from the partner organizations, which ensured that investment priorities and strategies were taken into account to mitigate risk and enhance the sustainability of the business.
Want to help design a better future for Puerto Rico?
Get in touch using the form below, or email centro@foundationpr.org and send us your resume and a cover letter letting us know why you want to be a part of this new team.