Bottom Up Destination Recovery Initiative
The Bottom Up Destination Recovery Initiative supports the development of the Visitor Economy across under-served communities as a driver of sustainable and inclusive economic growth. The program is an evidence and asset-based community development initiative with the potential to transform communities and scale across the island. Through civic engagement and action planning, we are empowering communities across Puerto Rico from the bottom up. The program creates jobs, growth opportunities and new revenues that improve the lives of families and their communities.
After self-funding the first two pilots of the program in Orocovis and Humacao, Bottom Up has scaled its impact island-wide across 12 additional municipalities outside San Juan: Aguadilla, Arecibo, Barceloneta, Cabo Rojo, Camuy, Manatí, San Germán, Ceiba, Fajardo, Luquillo and Naguabo. Our field teams lived in the communities for six months to ensure plans meet local needs and are sustainable in the long term.
This program is made possible thanks to a generous grant from the Economic Development Administration (EDA), a division of the Department of Commerce.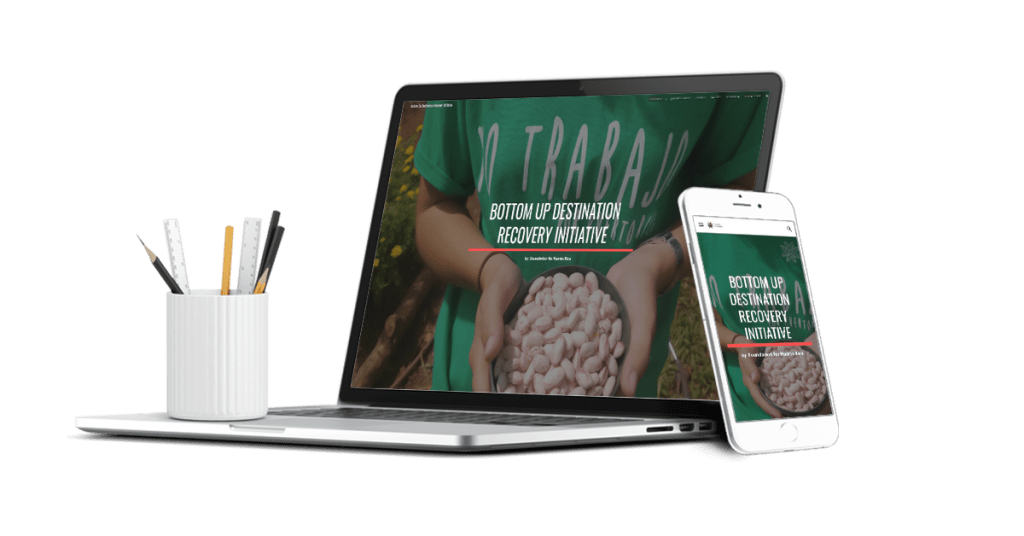 The program is designed with four distinct phases that work together to strengthen communities by stimulating their recovery and assisting with the necessary infrastructure for their development.
Basic Needs & Infrastructure
Bottom Up looks to reinforce the resilience of local NGOs, municipal buildings, and local small businesses. We donate a variety of products with the purpose of strengthening the recovery mechanisms of these institutions, so they can bounce back quickly from a future emergency.
Our objective is to ensure that the destination's offering to visitors, such as lodging, attractions, and gastronomy, are equipped with a sustainable infrastructure, accessibility, water quality, clean energy alternatives, telecommunications, and a reduction of solid, non-biodegradable waste.
Small Business Support
Small businesses repeatedly demonstrate their critical role in preparing for and recovery from emergencies while bearing the front-line of defense against economic downturns. We support these local entrepreneurs, focused on tourism and gastronomy offers, in a variety of ways:
offering a robust series of workshops, trainings, and tools that can help them strengthen and expand their offering.
donating a variety of products to help them recover quickly from future adversity.
nurturing and launching microenterprises in the Visitor Economy through a program called Destino Empresarial, led by our local partner, INprende.
Social Capital 
As part of our commitment to the third sector, Bottom Up shores up local NGOs and community organizations through a series of workshops led by industry experts in topics such as proposal writing, fundraising, emergency readiness, management of volunteers and donations, and other matters to do with organizational and fiscal capacity. We also bring support to community-led initiatives, so they can be part of the Destination Plan for their region.
Destination Planning
This program component identifies and analyzes the tourism offering of the region, and looks to enhance existing tourism-related offerings through capacity training and 1:1 coaching. We also identify individuals or groups interested in forming part of future business offerings, by making sure they participate in the various entrepreneurial programs such as Destino Empresarial or Nido Cultural.
The end goal of this phase is co-designing and developing with the community a comprehensive document that includes a vision for the destiny that is inclusive and a series of proposed projects that reflect both the authentic local offering, as well as additional future experiences that will help make the destination a more competitive draw for local, national, and international visitors alike.
+600 small businesses & +500 ngos
supported through resiliency training in the form of disaster preparedness and response plans.
of entrepreneurial education provided for businesses and startups.
retained or created through the businesses or nonprofit organizations that we assist.
to build the capacity of local NGOs and strengthen social capital in communities.
across the different in-persona and digital workshops provided.
directly and indirectly supported through the program.
Water quality testing kits

Biodegradable utensil kits for restaurant owners
Pending product donations that will be distributed between February and August 2021 include: 
Telecommunication supplies and equipment to enable text-based communications during or after disaster scenarios. 
Photovoltaic Systems with battery storage to aid the community; 11 sites have been selected.
we are stronger together
We must all come together to transform Puerto Rico and help our communities through this economic crisis. Help us shape the future of Puerto Rico with your financial support!